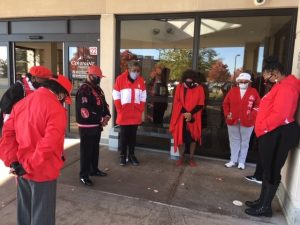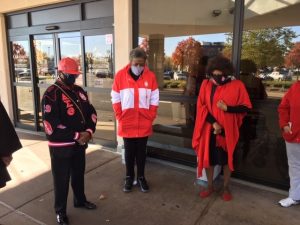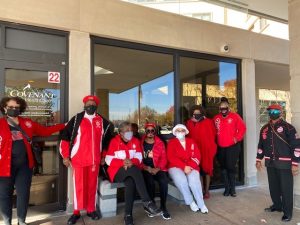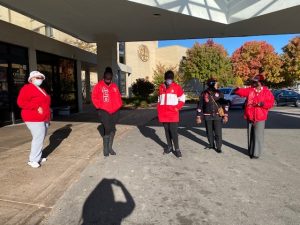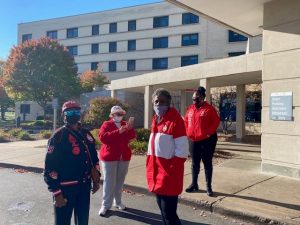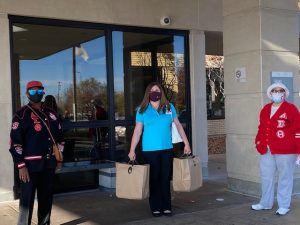 In keeping with the Delta Sigma Theta Sorority, Inc., Five Point Programming Thrust, which encourages community service, the Saginaw Alumnae Chapter delivered 16 lunches for frontline workers in the respiratory unit at Covenant Cooper Hospital in Saginaw, MI, Saturday morning, October 17.
An area restaurant catered the individually­ packaged lunches, which included grilled flank and club sandwiches, chips, pickles and cookies. The grab-and-go boxes were picked up by a designated hospital employee. Co-Op Relations Officer Amy Menard greeted Saginaw sorors, then delivered the lunches to the unit.
"Our aim was to give back to the community by honoring frontline workers for their impactful effort during this pandemic," said President Barkley. "We had the lunches packaged so workers could pick up meals 'on-the-go' to get them through the day."
During the service event, sorors, dressed to the nines in Delta paraphernalia, wore masks and stayed outside as a precaution against the ongoing coronavirus pandemic. After the lunches were delivered, sorors remained onsite to fellowship and reflect a moment in prayer before dispersing.
"The sorority conducts numerous acts of service across the country in hundreds of communities each year on its annual day of service," President Barkley said.
Saginaw sorors involved in organizing this year's, Regional Day of Service 2020, effort, include: Chapter President Georgia Barkley, and Sorors Sylvia McAfee and Patricia Scott-Mason, Committee Co-Chairs.
###