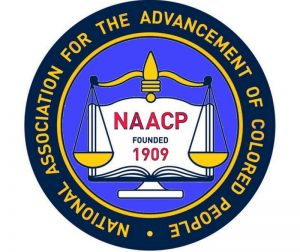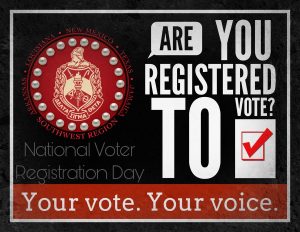 Saginaw Deltas are working hard to target outreach to potential voters in advance of the November election. The aim is to reach out and ensure voters are registered and plan to vote. The Chapter is working under the auspices of Delta Sigma Theta, Inc., who is partnering with the NAACP and the Election Protection Coalition on a nationwide voter information campaign.
The Chapter kicked off its drive to get voters to the polls at the October 4 NAACP Saginaw Branch's monthly meeting. During this virtual gathering, the Chapter served as host. Presentations focused on the 19th amendment, sorors made clear the need to vote, and paid tribute to DST's historic role in the 1913 women's suffragist march – a movement to change voting laws and allow excluded citizens to vote.
"All of our "get out the vote" efforts are in keeping with, DST's national Social Action Commission criteria, and online posts are in concert with its "Sisters in Solidarity" GOTV social media campaign," said Saginaw Alumnae Chapter President Georgia Barkley.
"We also are rising to the challenge of the NAACP's nationwide virtual phone banking initiative," said Soror Rhonda Farrell-Butler, DST Saginaw Alumnae Chapter, Social Action Committee, Chair. "Several sorors, who are serving as volunteer phone bankers, are in the process of calling voters to encourage vote by mail or in person voting."
Prior to calling voters, in late September, sorors attended a NAACP Civic Engagement training on Zoom. The virtual phone bank effort is aimed at ensuring Black voters are registered and plan to vote. Overall, the NAACP expects to reach approximately 12,000 voters as a result of this nationwide election protection initiative.
"To help the election run smoothly this year, the Chapter's Social Action Committee is encouraging sorors to volunteer as poll workers," Farrell-Butler said. "Due to a nationwide shortage of poll workers, there is a huge need for volunteers."
To this end, the NAACP Saginaw Branch held a virtual Zoom session October 13 to train local volunteers to serve as poll workers during early and in-person voting.
"The Chapter is working hard to raise public awareness about Michigan election guidelines via social media posts," Farrell-Butler said. "Our October 18 Facebook message, posted 15 days before the election, reminds the public of the high price paid by African Americans to vote."
Embedded in the post's image, a newspaper clip provides a glaring reflection on history – the deaths of two black men; George W. Lee, 51, and Lamar D. Smith, 63, who were murdered in Mississippi for the grave offense of registering "negroes" to vote in 1955.
In another "get out the vote" initiative, the Chapter partnered with Saginaw Sorority Sisters, a collaboration of local sorors. During an October 19 "#dropininthebox" virtual rally, members of local Divine Nine fraternities and sororities shared updates on their organization's voter information efforts. Following the rally, fittingly held on "Souls to the Polls" Sunday, fraternity and sorority members were asked to take a selfie while dropping off their absentee ballots.
"Members were asked to post their selfies to Facebook, under the hashtag "#dropininthebox," to encourage family and friends to do the same," President Barkley said. "Participants also were asked to email personal pledges, which include helping get food and water to the polls and assisting elderly voters to register and get to their voting locations. "
Chapter representatives, and rally organizers, include: Sorer Karen Lawrence-Webster, Sorer Felicia Peters, and Sorer Lisa Ingram. Our own Soror, Rev. Erica Williams, a national leader in the Poor People's Campaign, was the featured speaker.
A final event, tentatively scheduled in late October, will include a featured DJ and a moderator to help enhance participant experience through entertainment, while encouraging voter participation.
"During our "Party with a Purpose" outreach event, public figures will be on board to help promote the importance of the Black vote," Farrell-Butler said.
Social Action Committee members involved in planning the overall voter outreach for the Chapter, include: Soror Rhonda Farrell Butler, Chair; Lisa Ingram, Chapter 2nd VP; Sandra Robinson and Anita Richardson.
"This election promises to be unlike any other. Due to the ongoing pandemic, there is an increase in mail-in voting and early in-person voting," Farrell-Butler said. "Which makes it even more important for voters to avoid waiting until the last minute to make a plan to vote."
For more information, Visit the Chapter's News and Information page on our Web site at https://www.saginawdst1967.com, on the Chapter's Facebook page @saginawdeltas, or by clicking the Facebook icon on the Website.
###