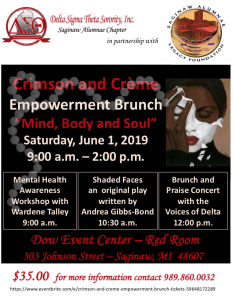 The Arts and Letter Committee will present an original play called "Shaded Faces" followed by Gospel Prayer and Praise. "Shaded Faces" will bring awareness to suicide. The production highlights a young girl in a bedroom wearing a mask as she watches her mother, father and brother come to the edge of suicide while she considers the same for herself. The mother, father, and brother are experiencing separate but similar life relationship struggles that will be displayed via short stories as the girl watches from her bedroom. The presentation will include an opening scene for each short story with different artistic expressions that introduce the struggle that leads the mother, father, and brother towards suicide. The artistic expressions will include a soloist, graphic artist and dramatic dancer. The story ends with the girl removing her mask while saving her family from suicide.
ALC is doing this project to bring public awareness to the signs of a person who is considering suicide. In 2016, there were 1,354 deaths as a result of suicide in Michigan. This represented a 40% increase over the 974 deaths in 1999. Saginaw County experienced 376 deaths as a result of suicide between 1999 – 2016, 10.3 rate per 100,000 residents and 42% were due to relationship problems. Michigan continues to reduce its funding for mental health and therefore it becomes important that we find creative ways for families and friends to identify the signs of suicide and ways to help their family and friends.
Saginaw native Andrea Gibbs Bond (member of Delta Sigma Theta Sorority, Inc.) will write and produce her first public production. Bond has written several short stories for a private viewing for the sorority. Bond will work with Dr. Ava Lewis (member of Delta Sigma Theta Sorority, Inc.) who is on the Saginaw County Mental Health Board and a clinical nurse. Dr. Lewis will provide technical assistance to Bond on the subject of suicide.
After a short brunch intermission, music will be provided by "The Voices of Delta" and other local artist. This soul stirring portion of the day will have you clapping your hands and tapping your feet.