Welcome to the official website of the Saginaw Alumnae Chapter of Delta Sigma Theta Sorority, Inc. where you will find information about our service to the community, programs, and signature events. Thank you for visiting our website and we look forward to your continued support!
Delta Sigma Theta Sorority, Incorporated is a non-profit organization whose purpose is to provide assistance and support through established programs in local communities throughout the world.
Founded on January 13, 1913, by twenty-two collegiate women at Howard University, the Sorority is currently a sisterhood of more than 300,000 predominately Black college educated women. This includes over 1000 chapters located in the United States, England, Japan (Tokyo and Okinawa), Germany, the Virgin Islands, Canada, Bermuda, the Bahamas, and the Republic of Korea. The major programs of the sorority are based upon the organization's Five-Point Programmatic Thrust:
● Economic Development
● Educational Development
● International Awareness and Involvement
● Physical and Mental Health
● Political Awareness and Involvement
_____________________________
The Saginaw Alumnae Chapter's 2022 scholarship application period is now closed.
May 2022 Events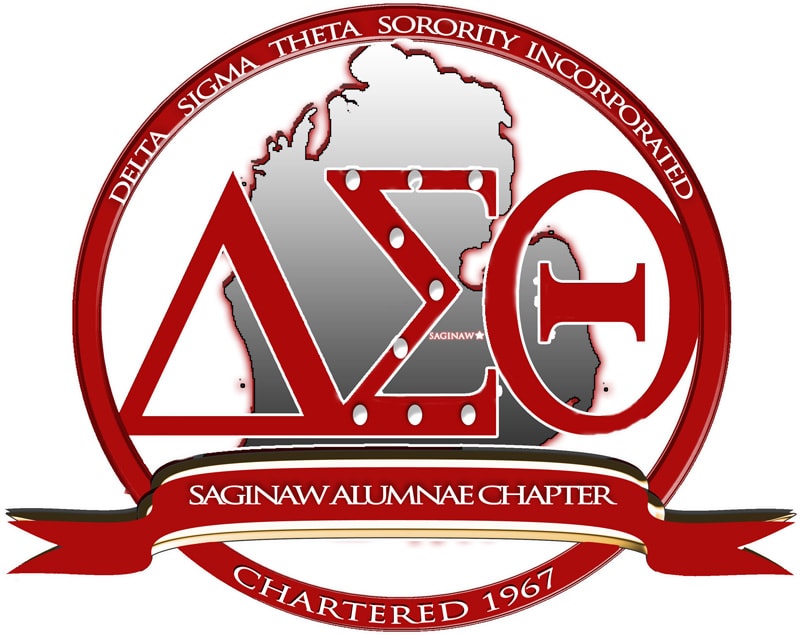 Greetings Sorors and Friends:
Through the bonds of sisterhood, Delta Sigma Theta Sorority, Inc. (DST) was founded at a dangerous time when it was not practical for blacks, especially black women, to have aspirations for themselves or for society as they envisioned. Nevertheless, the sorority was formed to bring women together Io function as sisters to change and benefit the lives of individuals within society through collective social action.
The history of DST began with its historic role in the 1913 women's suffragist movement, when Deltas marched in a nationwide movement to change voting laws and allow suppressed and excluded citizens the right to vote. With the passage of the 19th Amendment, which finally gave women the right to vote, African American women and men, along with countless people of color, in many states remained as disenfranchised and excluded from voting as prior generations. The work, so it seemed, had just begun.
Today, like the suffragists who came before us, many Deltas have felt the sting of being unseen, unheard and invalidated. We have yearned for unforced freedom in a world that often seeks to deny us. As a result, the importance of our sisterhood and its parallel to DST's mission cannot be overstated. So, as we come together in this era of insurmountable and historic challenges, we are ever mindful that sisterhood is our call to action.
As we recollect on our collective struggles and triumphs, we want you to know that Deltas are encouraged through the ongoing reclamation of our collective identity, by the worthiness of our cause, and in the steadfastness of our focus. All of which is anchored steadfastly on, and from our founding to people who value service to mankind.
The Saginaw Alumnae Chapter, like the sorority at-large, is a fascinating microcosm of the struggles of black women and people of color. Like sorors worldwide, we have found healing and affirmation of our identity through service as Deltas. We have framed our autonomy through our journey as sorors and found renewed hope in the stories of our sisters. Since our founding, our deepest involvement and influence has been felt in civic arenas at the local, state, and national level
In search of sisterhood, the Saginaw Alumnae Chapter pledges our commitment to working to address the political, social, and economic affairs of America. You can rest assured we will remain diligent as we strive to create opportunities for communities to speak authentically through civic engagement to address the divisive, often race and class-related, issues confronting our society.
It is, therefore, my fervent hope and prayer that those of my sisters – with sisterhood, service and scholarship as our calling, will continue to serve as examples to embolden those, like you, who would join us in partnering to build a strong, safe, and unified community in service through Delta Sigma Theta.
Thankfully and gratefully yours,
Everything happens for a reason
Georgia Barkley, President
In the spirit of Sisterhood, Service and Scholarship

---
For more information, visit our national website at www.deltasigmatheta.org
Visit the Midwest Region's Website at http:www.dstmidwestregion.com
---